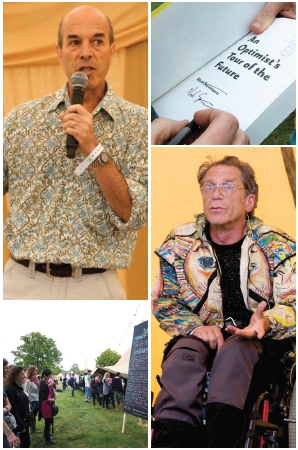 IAN GOLDIN – Former Vice President of the World Bank, who served as an advisor to Nelson Mandela and is current Director of the 21st Century School at Oxford.
MARCUS DU SAUTOY - Simonyi Professor for the Public Understanding of Science.
AUBREY DE GREY – Leading British researcher on aging. He provocatively proposed that the first human beings who will live to 1,000 years old have already been born.
ALYS FOWLER - Cult gardening heroine and The Thrifty Gardener columnist.
BEN MOOR - Actor, writer, comedian and stalwart of the Edinburgh Fringe
OLIVER BURKEMAN – Each week in The Guardian's This Column Will Change Your Life, he writes about self-help culture and makes unprovoked attacks on The Secret.
JULIAN BAGGINI – Popular philosopher, author, and co-founder & editor-in-chief of The Philosophers' Magazine.
ROBERT ROWLAND SMITH – Former Oxford Fellow & faculty member at The School of Life.
MARK STEVENSON – Author of An Optimist's Tour of the Future.
DR MAREK KUKULA - Good Morning, Infinity. The Royal Observatory's Public Astronomer.
ROBIN INCE – Radio 4 and Have I Got News For You favourite.
IAIN SINCLAIR & ANNA MINTON - Olympic arch-critic, journalist, film-maker and psychotopographer Iain Sinclair in conversation with agenda-setting journalist & author Anna Minton.
JAY GRIFFITHS - Pip Pip author with her revolutionary sideways look at time.
DAVID MCCANDLESS - Information Is Beautiful. Author, designer & writer for The Guardian, Wired and others.
GREGORY SAMS – Universal Consciousness. Acclaimed fractal artist, organic pioneer, author, entrepreneur, chaos theorist, social scientist, and inventor of the vegeburger.
BEN GOLDACRE - Bad Science.
ANNIE MACHON - Former intelligence officer who blew the whistle on MI5 backin 1996.
MARK PILKINGTON - Mirage Men. Author & UFO-researcher, Mark took us on a fresh & funny history of UFOria.
DR NAFEEZ AHMED - A User's Guide to the Crisis of Civilization. Bestselling author, political scientist, terror analyst & Director of the Institute for Policy Research & Development.
CHRISTOPHER HIRD - The End of the Line. Director and founder of Dartmouth Films, Chair of Channel Four's Britdoc Foundation & Producer of The End of the Line.
LAURA WILLIAMS - An exclusive peek at The Aluna Project.
MARK VERNON - Popular philosopher, author and journalist. He's written books on friendship, wellbeing, belief, science and the philosophy of the everyday.
ALOK JHA – The Guardian science correspondent & Science Weekly podcast host.
DALE TEMPLAR – BBC's Human Planet producer.
REVEREND BILLY TALEN - Televangelist and spiritual leader of the Church of Stop Shopping - a radical performance community based in NYC.
OLIVER JAMES - Psychologist, writer, journalist, broadcaster and television documentary producer & presenter.
JAMIE CATTO - Founder member, singer, art director & video director of Faithless; creative catalyst, producer & director behind the global philosophy and music project '1 Giant Leap'.
CHRIS SANDERSON – Co-founder of The Future Laboratory and presenter of Channel 4's Home of the Future.
ALEKS KROTOSKI - Observer columnist & host of The Guardian's Tech Weekly podcast.
ROMAN KRZNARIC – Philosopher and author of Life Lessons From The Wonderbox of History.
TALI SHAROT – Author of The Optimism Bias.
SUSIE PEARL - author and happiness activist
ANN DANIELS - Record-breaking polar explorer & renowned international speaker.
CASPER HENDERSON – Barely Imagined Beings author revealed his 21st Century Bestiary.
PAUL KINGSNORTH – Author, poet, and founder of The Dark Mountain Project.
DEBATES:
---
"Happiness Comes From Having More" Hosted by Intelligence Squared
For: Claire Fox (Institute of Ideas founder) & Francis Boulle — Diamond mining heir, entrepreneur and star of Channel 4's Made in Chelsea. Against: Professor Richard Layard (Founder of Centre for Economic Performance at LSE), The Rvd Giles Fraser (resigned as Canon Chancellor of St Paul's Cathedral during Occupy). Chair: Tony Curzon-Price
---
"Technology creates more serious problems than it solves" Hosted by Intelligence Squared
For the Motion: Harry Eyres (Journalist, writer, poet and FT Slow Lane columnist) & Brendan O'Neill (Editor of Spiked Online). Against the Motion: Roger Highfield (Editor of New Scientist) & Rory Sutherland (Vice-Chair of Ogilvy Group UK, & The Spectator's WikiMan). Chair: Jack Klaff - Actor, director & academic.
---
"Don't let the EcoWarriors ruin your fun" Hosted by Intelligence Squared
For the Motion: James Delingpole (novelist, columnist, broadcaster and blogger) & Viscount Monckton of Brenchley (Businessman, newspaper editor, climate sceptic). Against the Motion: Martin Kirk (head of UK Campaigns for Oxfam) & Katharine Hibbert (author & journo). Chair: Tony Curzon Price - Editor of OpenDemocracy
---
"Successful communities: are they built, grown, or imagined?" -
Lord De Ramsey - SGP landowner, former head of the Country Landowners Association & Environment Agency, John Thackara from Doors of Perception, Blanche Cameron Director of RESET, lecturer at the Centre of Alternative Technology in Wales, Mischa Hewitt from Earthship Brighton, & Maria Glauser co-founder of The Hub.
---
"Climate Change - the way forward" - Toddington Harper- Director of Low Carbon Economy Ltd, Emily James - Director of Just Do It, Plane Stupid - direct action team.
---
"9/11 Outside Job?" - Ed Brown vs. 9/11 Truth Bristol.
---
"Cocaine Unwrapped" - director Rachel Seifert, KnowDrugs campaigners, and activist & peace campaigner Pete Barden in our post-screening debate on prohibition, prevention and rights.